Client: Centre for Contemporary Arts
ROLE
Participatory Web Designer
TYPE
Web Design
Civic Engagement
DATE
January - October 2016
TEAM
Alice Dansey-Wright (Visual Design)
SITUATION
Botanic Concrete is a project set up by the Centre for Contemporary Arts (CCA) that works with the users and residents of Garnethill. It aims to find out what the community wants from their area and how they feel about local issues. Working creatively and with an alternative approach, its objective is to find ways of sharing and developing knowledge of our area.
The plan is to work with all parts of the community – people from all cultures, ages and backgrounds – to create a truly democratic understanding of the needs and desires of the people. This includes families living in the area, the Chinese community, students of the local art school and pupils from local nurseries and schools, as well as asylum seekers and refugees – a vibrant community in transit who are also potential users of Garnethill.
APPROACH
My role as Participatory Web Designer was to organize activities for the Project Launch and Brainstorming Sessions to gather insights and knowledge from the community, lead co-design sessions to inform the website design and design the final website to be used by project members.
Participatory Web Design invites the project members to take the existing tools, future tools and all the information gathered and think of how they would like to see them documented and used on a website. Participants went through a variety of exercises in both groups and as individuals to come up with ideas, share inspiration and begin shaping and informing the website design.
I also led two co-design sessions to develop Botanic Concrete's website. During the first session, we used use case cards to understand who would use the website and why. We reviewed previous brainstorm notes, ideas, etc. Working in 3 groups, we came up with different ways of laying out and categorizing the content. Theses ideas carried over to the second session. We started the second session with Crazy 8 sketching, selecting various common objects to build everyone's confidence to draw. We then quickly sketched wireframes of various pages for the site such as the homepage and tool pages. We also defined how to tag content to be sorted in the website.
RESULTS
This website is the result of the collaborative nature of the participatory web design sessions. A spreadsheet was created to gather all the ideas from the workshops, which informed the design of the website. Beyond documenting past events and sessions led by the Botanic Concrete community, project members have a desire to take it on and continue leading events in Garnethill. They will keep trying new tools to build its community identity through the common good.
The website launched on September 8th, 2016. A website training session took place after to teach Botanic Concrete members how to use and maintain the WordPress site to continue the project.
Botanic Concrete website
---
Project Deliverables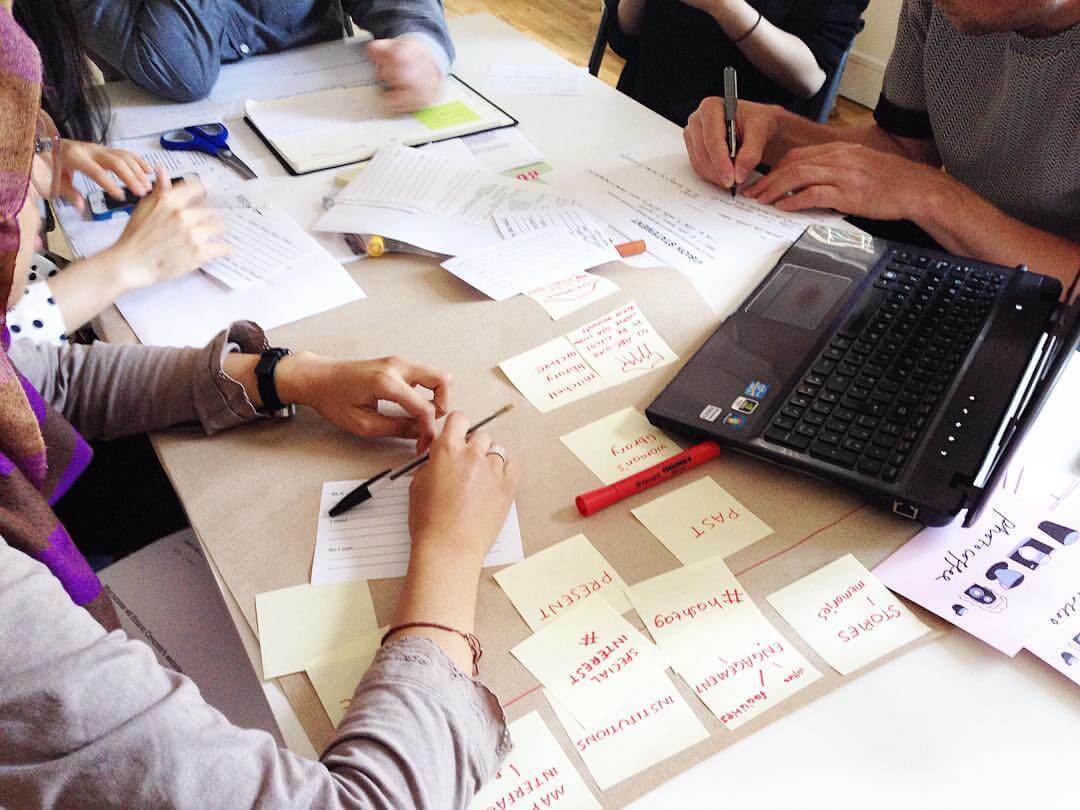 Co-design session
Botanic Concrete members sharing ideas
Botanic Concrete homepage - Tools can be sorted
Tool page